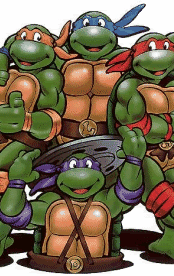 Dalton: I don't like spaghetti!

Me: What? Yes you do! Eat it! (repeat this for an hour and a half)

Dalton: I'M. NOT. HUNGRY!

Me: (knowing that Dalton is obsessed with the Teenage Mutant Ninja Turtles) Don't you want to grow up and be strong like the Ninja Turtles?? They eat their spaghetti.

Dalton: No. They eat pizza.


The spaghetti is still sitting on the table. I gave up.